If you're a runner, you know that not every set of headphones will work, whether you're completing miles on the track or around town. If you want to listen to your music or podcasts while on the move, you need headphones that are sweatproof, lightweight, and offer great sound. No matter if you're a pro or just get started with the running lifestyle, these are our favorite headphones for runners.
Flagship Earbuds – Jaybird Vista
The Jaybird Vista are our go-to pick for runners. First and foremost, they feature IPX7 water-resistance, which means they'll be able to withstand the most intense workouts and sweat without any issue. Not only that, but they also feature up to 6 hours of battery life on a single charge (buds), with an additional 10 hours of battery life from the included charging case, netting you a total of 16 hours of audio playback.
Ridiculous Battery Life – Powerbeats Pro
The Powerbeats Pro offer up to 9 hours of battery life, physical buttons for media controls, support for Google Assistant, water resistance, and a robust, fun sound signature all in a true wireless earbuds package. The only real downside to them is that the included charging case is ridiculously large and will likely take up your entire pocket.
Last updated on April 3, 2020 1:59 pm
Stretch Your Dollars – LETSCOM
For buyers that want to stretch their dollars, it's hard to do much better than LETSCOM's headphones. You'll find deep bass, clear treble, and a seriously impressive battery that lasts up to eight hours on one charge. They also feature IPX7 water resistance and a one-year warranty.
Last updated on April 3, 2020 1:59 pm
Active Noise Cancellation – AirPods Pro
The AirPods Pro includes four and a half hours of battery life on the buds side, with up to 24 hours total with the ultra-portable wireless charging case. They also feature active noise cancelation (ANC), which helps you really focus on your workout and music.
Neck-bud Love – Skullcandy Method
While most neck-bud earbuds aren't great for running, the Skullcandy Method breaks that trend. They are super lightweight, comfortable, and are IPX4 rated, which means you'll be able to use them for most light to moderate runs. They feature up to 9 hours of battery life and are super stable and convenient thanks to their neck-bud design.
Last updated on April 3, 2020 1:59 pm
Dirt Cheap – Mpow Flame
The Mpow Flame are among the cheapest headphones on our list, but don't let the small price tag fool you. For their price, Mpow offers headphones with IPX7 water resistance, 7-9 hours of battery, multiple colors, and a snug fit in the ear.
Last updated on April 3, 2020 1:59 pm
Bone Conducting Magic – AfterShokz Trekz Titanium
If you often find yourself running on a busy street, it might be worth checking out these AfterShokz Trekz Titanium bone-conducting headphones. By vibrating your cheekbones, you can listen to all of your music in high-quality glory while leaving your ears open to hear traffic and other potential hazards.
Last updated on April 3, 2020 1:59 pm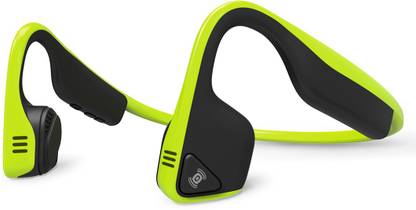 Rs. 7,999
Rs. 11,999
in stock
Premium Audio – Bose SoundSport
The Bose SoundSport Wireless are easily the best-sounding headphones on this list. The sound that comes out of these is exceptional for its class. Along with that, you'll also get up to six hours of battery and a sweat- and water-resistant design.
Last updated on April 3, 2020 1:59 pm
Look Ma No Wires – Jabra Elite Active
Another good pair of true wireless earbuds are the Jabra Elite Active 75t. They are IP57-rated for dust and water resistance, feature enhanced wireless tech that allows for fewer music dropouts, up to 7.5 hours of battery, and built-in Amazon Alexa support.
Last updated on April 3, 2020 1:59 pm
Listening On The Go
If you're looking to continually work out daily, the Jaybird Vista are a no-brainer. They offer great battery life, a charging case that offers up to 10 hours of additional listening, and a secure fit with its hook design.
Another great option are the Jabra Elite Active 75t. These are also truly wireless earbuds with support for Amazon's Alexa, IP57 dust and water resistance, and a solid 7.5 hours of battery life. The charging case gets you another 20 hours of battery life. Overall, you can't go wrong with anything that's on this list. Whether you're looking for a true wireless set, a pair with a cord between them, or something with excellent call quality and battery life.
Source: feedproxy.google.com
More To Read
If you own a Google Home smart speaker and often connect it to your smartphone or tablet to play music, you might have noticed a Bluetooth connectivity problem that causes the device to disconnect frequently. It's one that we've faced as well, and going by numerous forum posts and Twitter threads complaining about the issue, […]
Realme has launched only two 5G smartphones so far – the Realme X50 and the Realme X50 Pro. However, the company has made it clear that more 5G phones are in the pipeline. Realme has announced that it will launch more than five 5G smartphones in 2020 that will be spread across different price brackets. The […]